October 31, 2012.

Difficult decisions living with breast cancer.

Terri da Silva is Spider Robinson's daughter. I don't pray, but there's nothing wrong with sending good vibes her way. This is a difficult time for the da Silva family. Terri's blog:

Graceful Woman Warrior

September 7, 2012. John signed Slow Apocalypse at The Book Bin in Salem, Oregon, 450 Court Street, 7:00 P.M.

May 24, 2012: So much of what you see and hear these days is bullshit. Viral emails and videos are the worst new offenders, but the bovine poop is everywhere. That's why I treasure my very short list of websites to go to and people to read and see to find the real stuff. These include:

. Cecil Adams (who no one seems to have ever actually SEEN) has been writing this column for almost 40 years, and you can count on him to answer the most difficult and/or (sometimes) stupid questions. He pulls no punches. If your question is stupid, he will tell you so. I have a special affection for him because he once mentioned my name in one of his columns: What is a merkin?

. These guys verify or lay to rest the stuff "everybody knows" to be true, and most of the time, ain't.

Snopes.com. Best source to see if that amazing email you just got, along with 100,000 other of your closest friends, is true.

I'm now adding Cracked.com. What an odd story it is. CRACKED magazine was started in 1958 as a second-rate knock-off of MAD. It thrived for a while, then died an extremely slow death, finally folding in 2007. But then it was reincarnated as a website, and it's amazingly good! They specialize in short lists of things, some just for fun ... well, it's ALL just for fun, but some are more concerned with "facts" than others. It is very media-oriented, and the writing is very funny. Check it out. Here's a sample list, showing why almost everything you see in a modern action/thriller movie is bullshit: 6 Deadly Injuries You Think You'd Survive (Thanks to Movies)

If you have any other sources that specialize in getting to the truth behind the bullshit, I'd like to hear about them. Exception: political fact-checkers. I pretty much assume these days that it's ALL bullshit.

February 11, 2012: Cover update: We got so many responses to the recent cover posting that I was unable to answer them all personally, as I usually do. But I thought you'd like to know that about 80% of you liked the cover, and of the rest, only a very few actively disliked it. Most of you agreed with me that the "paint chips" looked more like dead leaves or peeling bark. I passed this information along to my long-time editor, Susan Allison. Three or four of you suggested that, since it was supposed to be paint peeling from a car door, that something be added to show that's what it was. Something like a door handle. Susan liked it, passed it on to the art director, and the new cover here is the result. Nothing is perfect--looking at the handle, I wonder where the bottom edge of the window is--but I like it better. So, for the first time in my 38-year career as a writer, I have actually had some input on a cover for one of my books, and you, the readers, are the reason why. Thanks to all of you who wrote.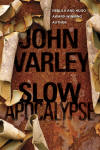 Febr

uary 2, 2012:

This novel is my attempt to reach a larger audience, which I will never do with hard science fiction like my Gaea Trilogy or the Thunder and Lightning series. As such, the book begins with a more-or-less science fiction premise in a more-or-less present-day setting, and proceeds from there.

SLOW APOCALYPSE follows the story of a family in Los Angeles as they attempt to deal with an energy crisis of unprecedented proportions. What if, virtually overnight, all the crude oil in the world suddenly became unusable? Hint: It would mean a lot more than just having to walk to work in the morning ...

This is what my editor called a "comp of the art director's take on the dust jacket." It will be tinkered with, I'm sure, but this is the basic concept. The idea is that this is paint peeling from the rusting body of a car. I thought it looked more like dead leaves, but it's just a first draft. It will also be jazzed up with "matte with spot gloss and embossing," which sounds pretty cool to me. What do you think?

October 27, 2011: The results are in, and they are … inconclusive. About half of you liked SLOW APOCALYPSE as the title for my upcoming book, and half preferred ONE MINUTE TO MIDNIGHT. That's those of you who had a preference. Some of you didn't like either of them. A few thought either one was okay.

There were a few dozen suggestions for alternatives. Some of them were quite good, but none stood out as something I just HAD to use. That's the way it goes with titles sometimes. Most of the time I KNOW what the title should be. There's just no question in my mind. But every once in a while nothing really satisfies, and we go to press with something that I will never be happy with. That looks to be the case here.

I have a policy of answering all my email, except for those very infrequent rants from cranks and idiots. This time the volume of mail was such that I'd end up using most of the day writing emails, and I hope you would prefer me to spend that time continuing work on my next novel, DARK LIGHTNING, the fourth and final book in the THUNDER AND LIGHTNING series. So please forgive me, and accept this group mailing along with my thanks for your responses.

October 21, 2011: You Heard It Here First!!!!

Earlier this year I finished a novel that I titled ONE MINUTE TO MIDNIGHT. I withheld announcing that here on the website because my editor had some concerns and said she might need some re-writes. And there was also the matter of the title. She didn't like it, and to be frank, I wasn't wild about it, either. It was just the best of a dozen unsatisfactory titles I came up with.

Today I was informed that she wants to call it SLOW APOCALYPSE. This makes sense, as the reason I wrote it is that she wanted a post-apocalyptic novel, a non-SF story (though all post-apocalyptic novels, by their nature, have SF elements) that she could push harder than the typical SF novel gets pushed. That sounded like a good idea to me, so I wrote a story about the development of a bacterium that turns crude oil into a useless, gooey mass. It gets loose, and suddenly we are faced overnight with the situation we all know is coming sooner or later: The end of the world's oil supplies. How would this affect the world? Pretty badly, and pretty quickly, I felt. So, though the disaster is slow compared to an earthquake or a tsunami, it's rapid enough to disrupt and then damn near destroy our accustomed way of life in months, not years. I hope you, my readers will buy it and enjoy it.

Publication will be in October … of next year. It takes time to plan the sort of roll-out and ad campaign I hope to see for this book. So please be patient. When I have an exact date, I will let you know here. You can also come here for a first look at the cover, when I get a copy. We'll let you know.

So, purely to satisfy my curiosity, what do you think of the two titles? Love them both, but one slightly more? Love one, hate the other? Hate them both? Any suggestions? I warn you that suggestions are unlikely to be considered unless they are SO good they might propel me to the top of the bestseller lists. But I'd still like to see them.